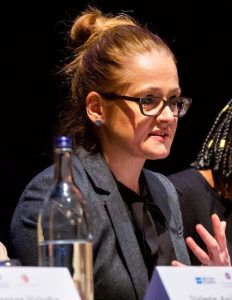 Dr Barbara Bompani is a Reader in Africa and International Development at the Centre of African Studies in the School of Social and Political Science, the University of Edinburgh and a Research Associate at the African Centre for Migration and Society at the University of the Witwatersrand in Johannesburg. Dr Bompani's work focuses on the intersection between religion, politics and development in Africa and on the ways religion shapes the lives of Africans. For many years her research has investigated the relationship between religious organisations and their activities and socio-political action in post-apartheid South Africa. She has also been involved in a research project looking at the Christian churches in Kenya and their role in promoting agricultural biotechnology for development. Since 2012 she is researching the role of Pentecostal-charismatic churches in framing the public and political discourse around morality, sexuality and nationhood in Uganda.
Dr B Camminga  (they/them) is a Postdoctoral Fellow at the African Centre for Migration & Society, Wits University, South Africa. Their work considers the interrelationship between the conceptual journeying of the term 'transgender' from the Global North and the physical embodied journeying of transgender asylum seekers from the African continent. In 2018 they were runner up in the Africa Spectrum: Young African Scholars Award, which honours outstanding research by up-and-coming African scholars. Their first monograph Transgender Refugees & the Imagined South Africa (Palgrave, 2019) received the 2019 Sylvia Rivera Award in Transgender Studies and honourable mention in the Ruth Benedict Prize for Queer Anthropology from the American Anthropology Association. They are the co-convenor of the African LGBTQI+ Migration Research Network (ALMN). Presently they are working on the first collection addressing African LGBTQI+ migration entitled: Queer and Trans African Mobilities: Migration, Diaspora and Asylum.
John Marnell  (he/him) is a researcher and PhD candidate at the African Centre for Migration and Society. His research uses creative methodologies (visual, narrative and embodied) to explore the everyday lives of LGBTQI+ migrants, refugees and asylum seekers. John is passionate about working collaboratively with social justice movements and experimenting with different forms of participatory knowledge production. His most recent book, Seeking Sanctuary: Stories of Sexuality, Faith and Migration, will be published by Wits University Press in mid 2021. John is co-convenor of the African LGBTIQ+ Migration Research Network (ALMN). He is currently putting together the first edited collection addressing LGBTQI+ migration on the African continent: Queer and Trans African Mobilities: Migration, Diaspora and Asylum (co-edited with B Camminga).
Image credit: detail from [Sunday by Audrey d'Erneville] reproduced here with permission of the artist.